Optimize your automation tools and programs.
Our dedicated technical team has an array of software certifications, but successful marketing automation requires more than tools and technological knowhow. It demands meticulous audience targeting, high-quality data, and compelling content—wrapped in process-driven strategies and campaigns. We can help you with all of it.
Automation maturity assessment and roadmap development
Platform optimization
Program development and lead management
Standards documentation and training

DMG offered Icertis strategic value on two axis; it had the talent, skills and hard-earned knowhow to quickly build a large nurture program from scratch; And it was able to draw on metrics-based insights to shape the program to make it successful. Our comfort in investing in a full buyer-journey nurture was that much greater because of their experience and proven methods.
Chris Ries, Director, Demand Generation
Icertis

Marketing Automation Maturity
As your organization's marketing maturity increases, so too does the scope and sophistication of your marketing automation activities. Progressing through the stages means moving from reactive one-off batch emails to persona-based triggered programs covering the entire buying journey.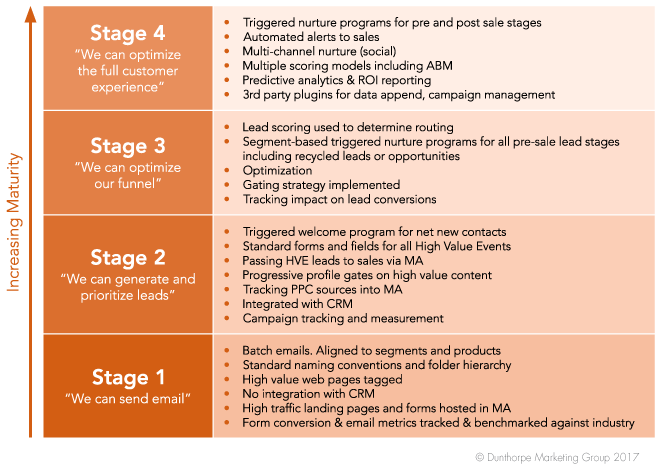 Want to assess your company's stage of marketing automation maturity and learn how to increase the effectiveness of your marketing automation platform?
Contact Us
Additional Resources
Marketing automation maturity impacts an organization's ability to increase revenue and profitability. It's likely the biggest marketing technology spend. Yet many practices remain immature resulting in a poor return on investment.
Marketing automation has made the proverbial leap from trendy tool to programmatic mainstay. But that doesn't mean it is a panacea for marketing teams.