Convert more leads, faster.
The silver bullet in our marketing mix is an in-house, boutique teleservices team. With an average tenure of more than six years, our highly experienced Market Development Representatives provide a human touch that pushes campaigns and results forward. Teleservices represent the highest performing element of our integrated campaigns and always deliver predictable, measurable results.
Target list development / optimization
Account profiling
Event promotion
Surveys / market research
Lead qualification / nurture / conversion
Combining Technology, People, and Process is the key to lead generation success. A technical foundation—which includes a marketing automation tool and healthy contact database—is enhanced by implementing processes based on proven methodology. Adding people, through a robust teleprospecting and telequalifying process rounds out the formula resulting in an increased marketing contribution to revenue performance.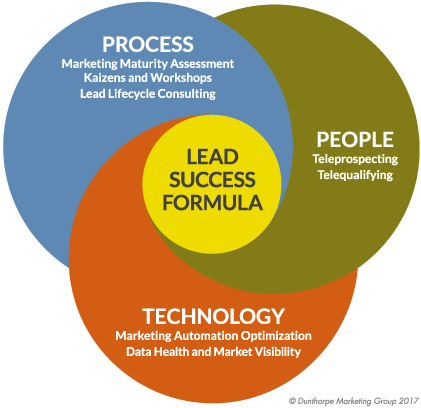 Dunthorpe Marketing Group gained us traction and immediate value with an audience that had been hard to crack using only digital methods. The success they achieved means we now have a proven model we can use to scale efforts and deliver immediate results with these highly valuable target accounts.
DN - Technical Marketing Manager
Tektronix


Dunthorpe Marketing Group helped speed up our lead qualification and conversion process, increasing the efficiency and cost-effectiveness of our marketing and sales activities. The results have been outstanding.
HG - Marketing Programs

Want to learn how you can convert more, high-quality leads with our optimized teleprospecting model?
Contact Us
Additional Resources
Generating high-quality leads is a top priority for most marketing and sales associates. While digital channels are effective at engaging with prospects, it is calling that offers the greatest potential to convert more leads, faster.
Generating and converting sales-ready leads is vital for business growth. While digital channels are ideal for delivering a high quantity of leads, it is teleprospecting that ensures higher lead conversion.